A Tale of Three Women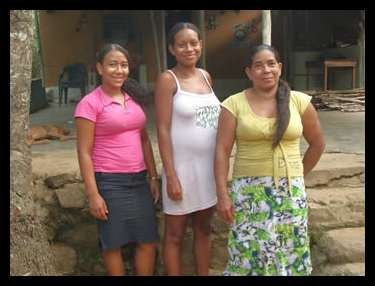 Petra (right) with her daughters Heidi (left) and Daicy (center). Three shining stars in our community.
The Recipe in Action
Petra and her two daughters live several hours walking up a remote river valley far from most public services. We have known Petra since she was younger than her daughter Heidi. Petra has always been a hard working ray of sunshine in our valley, an exemplary member of the community. She and her family showcase the way in which our Foundation serves individuals and families, guided by our Recipe for a Thriving Community.
Reproductive Health: Petra grew up in a world not so long ago where 14-year-old girls often became pregnant, and were sequentially pregnant thereafter, commonly not having their monthly menses for years on end. Six or eight children later, when enough offspring had survived infancy, mothers might seek a tubal ligation, the most popular birth control method here in Venezuela. Commonly waiting years for this elective public health service at the overwhelmed public hospital, they often had even more children in the interim for lack of alternatives. Petra herself got married unusually late for this area — all of 24 years old — and 15 years later, when she and her husband Arcadio decided that six children were enough, they came to our Foundation and promptly received a laparoscopic tubal sterilization.

Some years later, Petra's eldest daughter Daicy came to the Foundation for birth control pills when she was an aspiring student in her teens with her first boyfriend. Because of our reproductive health education program, Daicy understood early on that, unlike her mother, she had the option to be in a relationship without necessarily having a baby. This allowed her to work through what proved to be an unstable relationship without unduly complicated consequences, and to complete elementary school and even to begin high school in our scholarship program. She is now married and pregnant with her second child, utilizing the Foundation's family planning program to space her children and direct her own reproductive health. Her husband shares in her choices, and heads one of the local baseball teams that the Foundation supports for students and young adults.

Education: Younger Heidi is now 18 years old. Through our scholarship program, she completed high school in this remote rural area, and we are especially proud that she is one of our first high school graduates to be attending college with our continuing support. Heidi has participated in our workshops on reproductive health, which emphasize responsible informed sexuality in order to avoid unintended pregnancies and also to avoid sexually transmitted infections (a growing reality for her generation in the world). She is well aware of her options, and has sensibly chosen for now not to be sexually active while she pursues her studies and gives shape to her young life. Raising a family is not a priority for her yet, and she is clear about controlling her own destiny.

The Foundation's Recipe seeks to serve women effectively in each of these three stages in their lives — youth, the reproductively active years, and maturity.
We are proud of the constructive role that we have played in the lives of Petra, Daicy, Heidi, and thousands of other women, helping empower them to take control of their reproductive health and education and to create the futures that they themselves want to have. In a matter of years, in less than one complete generation, the choices for these women have opened tremendously. Both Petra and her husband are illiterate, but Daicy is literate on a high school level, and Heidi is now the first in her family to go to college, an enormous step forward. Heidi's younger sister Jeicy, the youngest in the family, is also enrolled in our scholarship program, attending high school and planning to go to college. This incremental progress, carried forward over time by many individuals and families, lifts the whole community.
A Tale of Three Women: The Recipe in Action
Download as PDF