Sustainable Livelihood
Our projects always respond to the community's stated needs.
Juan Bosque, his wife Selsa, and their 7 children live in the upper valley, a two hour walk from the road, and were among the first to receive a solar panel from the Foundation.
"It is easy to have a panel," Juan says. "It doesn't bring any complications. We feel safer. We save a lot in money not spent on kerosene. And with kerosene, the smoke enters the house and covers the inner roofs with soot."
---
More than 30 years ago, we set out to grow new and exotic tropical fruits with an eye to improving local agriculture! The famed Durian from southeast Asia was one of our prize objectives. We started with just a few fresh seed rushed over from Malaysia some 20 years ago on 24 hour non-stop connecting flights by heroic friend Chuck Ehmann, in order to arrive while still viable to plant – a mere 48 hour window. Now here is our Durian harvest these many years later!
We have the only producing Durian trees that we know of in Venezuela. And this is not our only success. Here is a description of all the novel fruits we have grown on our farm.
---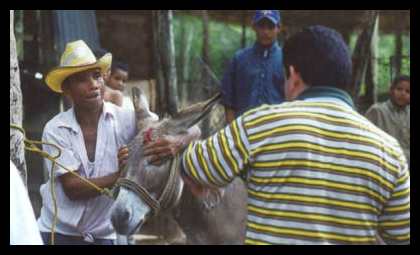 Ministry of Agriculture veterinarian Jesus Saavedra (back to photo) has collaborated with the Foundation since 1994. Here, he vaccinates a burro belonging to valley resident Antonio Henriquez during one of our annual campaigns.
---
On Thursday, September 8th, 2017, at the height of the torrential tropical rainy season, after several days of flash flooding, the Rio Manzanares swelled once more and swept away several foot-traffic suspension bridges that connected the remote rural communities where we work to the one paved road that goes to town. Rob Albert, our director of rural programs, watched the river sweep the Barrancas Bridge away right in front of his house. Here is his story