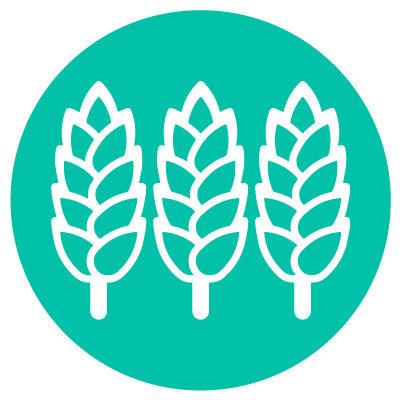 Sustainable Livelihood
Our projects always respond to the community's stated needs.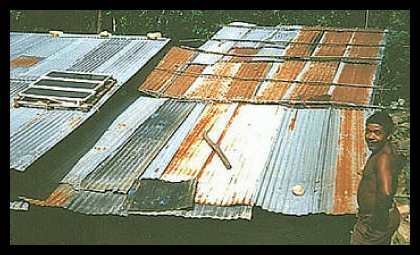 Juan Bosque, his wife Selsa, and their 7 children live in the upper valley, a two hour walk from the road, and were among the first to receive a solar panel from the Foundation.
"It is easy to have a panel," Juan says. "It doesn't bring any complications. We feel safer. We save a lot in money not spent on kerosene. And with kerosene, the smoke enters the house and covers the inner roofs with soot."
---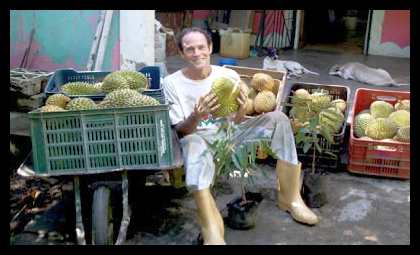 More than 30 years ago, we set out to grow new and exotic tropical fruits with an eye to improving local agriculture! The famed Durian from southeast Asia was one of our prize objectives. We started with just a few fresh seed rushed over from Malaysia some 20 years ago on 24 hour non-stop connecting flights by heroic friend Chuck Ehmann, in order to arrive while still viable to plant – a mere 48 hour window. Now here is our Durian harvest these many years later!
We have the only producing Durian trees that we know of in Venezuela. And this is not our only success. Here is a description of all the novel fruits we have grown on our farm.
---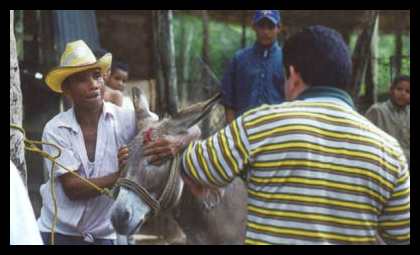 Ministry of Agriculture veterinarian Jesus Saavedra (back to photo) has collaborated with the Foundation since 1994. Here, he vaccinates a burro belonging to valley resident Antonio Henriquez during one of our annual campaigns.
---
On Thursday, September 8th, 2017, at the height of the torrential tropical rainy season, after several days of flash flooding, the Rio Manzanares swelled once more and swept away several foot-traffic suspension bridges that connected the remote rural communities where we work to the one paved road that goes to town. Rob Albert, our director of rural programs, watched the river sweep the Barrancas Bridge away right in front of his house. Here is his story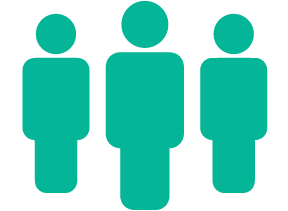 Community Center
We began in 1973 with a remote farm deep in the forest of a tropical river valley, seven walking hours from the nearest road. In 1977, we added a second farm, only three hours from the road, which gradually became a resource center for the valley community. In 2003, we added a third farm much closer to the single road which passes through our rural area. This third Brito-Barrancas Community Center has become a base for educational and community activities, often in collaboration with government programs. Campesinos use the site to store their agricultural products in transit to city markets, to safeguard building materials destined for valley infrastructure projects, and as a care station for the community's pack animals (horses, mules, and burros).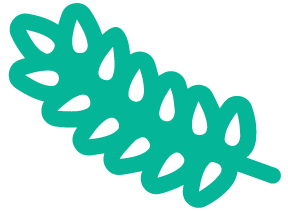 Agriculture
Since establishing our farm, we have introduced and disseminated a wide range of fruit trees that are new to the region, including Mangosteen, Durian, Rollinia, and Jackfruit. Many of the trees we have planted are now coming into production, letting us "share the new fruits" of our work with the community. Seeds and young trees are now distributed from our nursery to local farmers and gardeners, and to farms and institutions in promising areas around the country. Some of these fruits, notably Durian, Mangosteen and Jackfruit, are beginning to have commercial prospects locally. Our goal is to help expand the local food base, contribute to the local economy, and foster self-employment for our campesino friends.
Solar Energy
In our remote valley, there had long been no access to public utilities. The Foundation installed more than 30 solar (photovoltaic) electric systems for rural families, the local schools and chapel. These small systems use abundant tropical sunlight to power lights, radios, and other small appliances. The Foundation supplied solar panels and voltage regulators and installed them at no charge; families have been responsible for buying a truck battery/wiring and handling maintenance.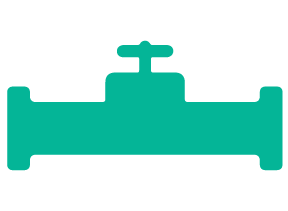 Gravity-Piped Water
With state assistance, we have installed and maintain an extensive gravity piped water system, providing 114 dispersed rural households with clean water from the many crystalline mountain streams that feed into the river valley. (No more need to carry buckets of water from the streams.) Our model has low environmental impact and has been enthusiastically approved by the government and local populations for reliable rural water delivery.
Animal Welfare and Vaccinations
We support valley animals in a variety of ways, including vaccination of pack animals, control of vampire bat populations (which transmit paralytic rabies to burros horses, pigs and dogs), and supplemental food for undernourished domestic animals.
Microenterprise and Direct Aid
We provide logistical and material assistance to families in need. Small increments of "help" can go a long way in times of difficulty. Supporting microenterprise empowers families to build long-term economic stability. Used clothing and shoes are redistributed at low prices, and the proceeds are used to support the rural school and other community projects.